Paraquat dichloride, which is usually called simply "paraquat," is one of the most commonly used herbicides in the United States.
The EPA says that "Paraquat is highly toxic to humans. One small accidental sip can be fatal, and there is no antidote."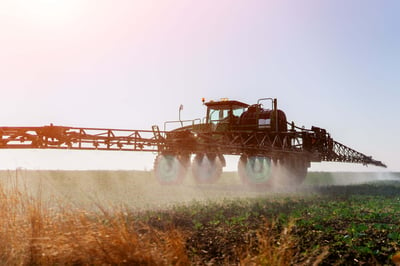 What Is Paraquat?
Paraquat was first produced for commercial use in 1961. The herbicide is still one of the most commonly used herbicides around the globe. It's the active ingredient of Gramoxone, Firestorm, Helmquat, and Parazone, which are used to control weeds and grasses and as a harvest aid desiccant and/or defoliant. Paraquat is commonly used as a burndown product, to control grass cover crops or volunteer cereals, and to control perennial and annual broadleaf weeds.
Paraquat is a toxic chemical used as a herbicide or plant killer. The main purpose of Paraquat is weed and grass control. This herbicide is available in the U.S. primarily as a liquid in various strengths. In the U.S., the EPA classifies paraquat as "restricted use," which means it can be used only by licensed applicators.
The form of the highly poisonous paraquat that's used in the U.S. has a blue dye to keep it from being mixed up with beverages like coffee. In addition, paraquat has a distinct odour that also serves as a warning. Plus, paraquat has an added agent to induce vomiting if it's swallowed.
Who is Most at Risk for Paraquat Exposure?
Those most at risk for exposure to paraquat are licensed applicators of the herbicide. This includes farmers with commercial crops such as corn, soy, and cotton.
Paraquat may only be mixed, loaded, or applied by a certified applicator who has successfully completed the paraquat-specific training before using the herbicide.
Paraquat should never be used around schools, parks and playgrounds, residential gardens, and golf courses.
How Could I Be Exposed to Paraquat?
Acute paraquat poisoning happens through ingestion, inhalation, or skin exposure.
A very common form of the exposure happens when a person's skin becomes exposed to paraquat. This type of poisoning is more likely to happen if the skin exposure lasts for a long time, is repetitive, involves a concentrated version of paraquat, or occurs through the skin that has sores, cuts, or a severe rash.
In addition, a person may be exposed by inhaling paraquat. This type of poisoning may result in lung damage and may also be linked to Parkinson's Disease.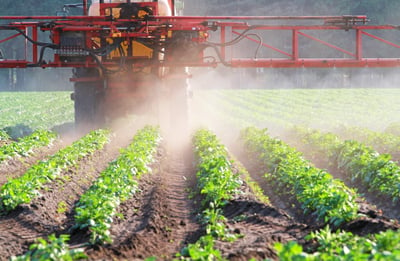 Paraquat causes direct damage when the herbicide comes into contact with the lining of the mouth, skin, stomach, or intestines.
How Does Paraquat Work?
The extent of poisoning caused by paraquat is dependent upon the amount of the exposure, the method or route, and the duration of exposure, as well as the person's health condition at the time of the exposure.
When the herbicide enters the body, it is distributed to all areas and causes toxic chemical reactions. These reactions may occur throughout many parts of the body, but it primarily affects the lungs, liver, and kidneys.
Does Paraquat cause Parkinson's Disease?
Paraquat is believed to be directly related to causing Parkinson's Disease in many people that have been exposed over time either directly or indirectly to paraquat.
Paraquat exposure not only affects those that were directly exposed through the mixing or spraying of paraquat. Quite often, farmworkers unknowingly have indirect exposure to paraquat, while working in fields without proper safety equipment shortly after fields had been sprayed and often at the same time as fields received an application of paraquat through aerial applicators.
Not only is it the farmworkers that are affected. It also can be those that lived on the farm where paraquat was applied.
What are the symptoms of Parkinson's Disease?
Parkinson's Disease is a nervous system disease that affects your ability to control movement. The disease usually starts out slowly and worsens over time.
Some of the common signs and symptoms of the onset of Parkinson's Disease are as follows:
Tremors, usually starting in a limb, often your hand or fingers

Slowed movement

Rigid muscles

Impaired posture and balance

Loss of automatic movements

Speech changes

Writing changes
What are the Immediate Signs and Symptoms of Exposure to Paraquat?
Ingesting a Large Amount of Paraquat
After an individual ingests a large amount of paraquat, he or she is likely to have immediate pain and swelling of the mouth and throat. The next signs are gastrointestinal (digestive tract) symptoms, such as nausea, vomiting, abdominal pain, and diarrhea (which may become bloody).
Severe gastrointestinal symptoms may result in dehydration, electrolyte abnormalities (when a person doesn't have sufficient sodium and potassium in the body), and low blood pressure.
The ingestion of large amounts of paraquat typically results in the following signs and symptoms within a few hours to a few days:
Confusion;

Seizure;

A fast heart rate;

Weakening of muscles;

Heart injury;

Lung scarring;

Acute kidney failure;

Liver failure;

Coma;

Pulmonary edema (fluid in the lungs); and

Respiratory failure, possibly leading to death
Long-term exposure may also lead to Parkinson's disease and reproductive problems.
Ingesting a Small Amount of Paraquat
If a person only ingests a small or medium amount of paraquat, it may result in the development of these adverse health effects within several days to several weeks:
Heart failure;

Lung scarring;

Kidney failure; or

Liver failure.
Are There Any Long-Term Health Effects From Paraquat?
If a person survives the toxic effects of paraquat poisoning, it's very likely that they will suffer from long-term lung damage (scarring).
Other long-term effects may include Parkinson's Disease, kidney failure, heart failure, and esophageal strictures (scarring of the swallowing tube that makes it difficult to swallow).
However, those who've had large ingestions of paraquat aren't likely to survive.
New, Stronger Safety Measures for Paraquat from EPA
In August 2021, the EPA announced an interim decision for paraquat that finalizes new, stronger safety measures to reduce exposure.
The interim decision includes the following enforceable mitigation measures that specify parameters for application and sets out restrictions to further protect people from exposure. The EPA has determined that these mitigation measures are necessary to address the risks identified from paraquat exposure. They include:
Limiting aerial applications and requiring residential buffers;

Prohibiting application by pressurized handgun and backpack sprayer;

Requiring enclosed cabs or respirators for ground boom applications; and

Increasing the Restricted Entry Interval (REI) for a number of crops.
The EPA says that its new safety measures will significantly reduce potential human health risks and is protective of all potential human health outcomes, including Parkinson's disease.
Please Call if You Have Questions
It is believed that Paraquat causes Parkinson's Disease and other kinds of serious health issues. If you or a loved one was exposed to Paraquat and is now ill, you could be entitled to compensation. Please call Tosi Law LLP at 888-311-8292 for more information. Our defective product lawyers are ready to help you investigate your claim.
Related Frequently Asked Questions
WE ARE HERE FOR YOU
Our firm believes that victims of gross negligence need a voice. We provide strong representation that is passionate about holding negligent corporations accountable for their actions.
Call For A FREE Case Review!
Get straightforward answers from an experienced lawyer. Call us at 888-311-8292 anytime, day or night.
By using this website, you consent to the use of Microsoft Clarity, a web analytics service provided by Microsoft Corporation, to collect information about your usage of our website. Microsoft Clarity uses cookies and other tracking technologies to collect data on your behavior, such as the pages you visit, the links you click, and the time you spend on our website. This information helps us improve our website and provide a better user experience for our visitors. The information collected by Microsoft Clarity is anonymous and does not personally identify you.